Thomas Spence was born in Newcastle in 1750. Spence was the leading English revolutionary of his day, with an unbudgeable commitment to individual and press freedom and the common ownership of the land.
His tracts, such as The Rights of Man (Spence was, perhaps, the first to use the phrase) and The Rights of Infants, along with his utopian visions of 'Crusonia' and 'Spensonia', were the most far-reaching radical statements of the period. Spence was born in poverty and died the same way, after long periods of imprisonment, in 1814.
Although sometimes hailed as England's 'first modern socialist', Spence is not easily corralled by later ideologies. He was a mortal enemy of tyranny and what he called 'giantism' of all kinds.
++++++++++++++++++++++++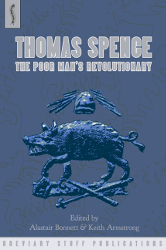 Thomas Spence: The Poor Man's Revolutionary
Edited by Alastair Bonnett & Keith Armstrong
(Breviary Stuff Publications, London, 2014)
♦ Introduction Alastair Bonnett, Professor of Social Geography, Newcastle University
♦ Property in Land Every One's Right (1775) Thomas Spence
♦ Paine, Spence, Chartism and 'The Real Rights Of Man' Malcolm Chase, Professor of Social History, University of Leeds
♦ Four Roads from "Genesis": Spence, Paine and Rights to Property Gregory Claeys, Professor of the History of Political Thought, Royal Holloway, University of London
♦ Spence's Property in Land Every One's Right: Problems and Solutions Rachel Hammersley, Senior Lecturer in Intellectual History, Newcastle University
♦ Thomas Spence and the London Corresponding Society, 1792-1795 Jon Mee, Professor of Eighteenth-century Studies, University of York
♦ The Economic Ideas of Thomas Spence: The Right to Subsistence John Marangos, Professor in the Department of Balkan, Slavic and Oriental Studies, University of Macedonia
♦ Spence and the Politics of Nostalgia Alastair Bonnett, Professor of Social Geography, Newcastle University
♦ Thomas Spence's Spelling Reform Robert W. Rix, Associate Professor in the Department of English, Germanic, and Romance Studies, University of Copenhagen
♦ A Radical Plan for the English Language Joan C. Beal, Emeritus Professor of English Language. University of Sheffield
♦ 'Meet and Sing, and Your Chains Will Drop Off Like Thread': The Political Songs of Thomas Spence Michael T. Davis, Lecturer in History, School of Humanities, Griffith University
♦ The End of Oppression (1795) Thomas Spence
♦ A Supplement to the History of Robinson Crusoe, Being the History of Crusonia, or Robinson Crusoe's Island (1782) Thomas Spence
♦ The Constitution of Spensonia (1803) Thomas Spence
♦ Poems and Songs Thomas Spence
♦ Poems and Song Keith Armstrong, Poet, Author and Founder of the Thomas Spence Trust -
See more at: http://www.breviarystuff.org.uk/thomas-spence-the-poor-mans-revolutionary/
---------------------------------------------
Spence at the Lit and Phil (Newcastle), March 2016

The city wide arts event, AV Festival, has the theme 'Meanwhile, What about Socialism?' across March 2016. Alongside talks there is a display of Spence tokens.

----------------------------------------------------------------------

Essay on Spence and the 'Northumbrian Enlightenmen

t'
Alastair Bonnett
The Northern Correspondent
, 2015
+++++++++++++++++++++++++++++++++++++
Recent conference on Spence:
Bicentennial Perspectives on Thomas Spence (1750-1814):
Radical Reformer in the Age of Revolution
Université de Toulouse 2, France - 27-28 November 2014
+++++++++++++++++++++++++++
2014 was the 200th anniversary of the death of Thomas Spence.
The best tribute to Spence is to oppose the privatisation of public services and public space.
http://www.keepournhspublic.com/index.php
http://anticutsnetwork.blogspot.co.uk/
An activist network of workers, students, retired and claimants in and around Newcastle-upon-Tyne. The network was launched out of the bottom up protests of the students, which others were keen to support and now campaigns against cuts. They meet every fortnight at organise specifically to oppose cuts to services, jobs and communities and aim to coordinate with other local campaigns including campaigns to save Libraries; Youth services; Play services; Pools & Leisure centres; City Hall; Sure Start services etc.
anticutsnetwork@gmail.com
http://www.coalitionofresistance.org.uk/
A Memorial for Spence
Unveiled on the 260th anniversary of his birth
21st June 2010
In bright sunshine a good crowd turned up to see the unveiling of the memorial plaque, sited at the bottom of Broad Garth, on Newcastle's Quayside. Keith Armstrong and the Thomas Spence Trust have been campaigning for years to get a permanent commemoration for Spence in his home city. They deserve the thanks of all those who care about Spence and the English radical tradition.
.
below: Keith Armstrong offering some stirring words in praise of Spence and Gary Miller, singing Spencean songs.
Blogs on the Spence memorial events:
http://keithyboyarmstrong.blogspot.com/
http://zine-it-yourself.blogspot.com/2010/06/thomas-spence-on-midsummers-day.html
Spence tribute song sung by Gary Miller:
http://www.youtube.com/watch?v=Eg41urGZtNs
Thomas Spence's original 1775 pamphlet found
Spence's key statement was delivered to the Newcastle Philosophical Society in 1775. Spence was kicked out of the Society for printing his speech and selling it on the streets of Newcastle.
For many years the only edition that was thought to survive of Spence's lecture was from 1793, titled 'Rights of Man'. Dr David Gardner-Medwin discovered the orginal pamphlet at the Newcastle Literary and Philosophical Society (founded 1793). We now know it was originally titled 'Property in Land Every One's Right'. This is a significant discovery and will be welcomed by everyone with an interest in British political history. A comparison of the original and later editions can be found at the end of the 'Debates' pages.
(with thanks to the Newcastle Literary and Philosophical Society)
Some More New Publications
On-line Pigs' Meat
Spence's journal - called Pigs' Meat - has been digitised by Eighteenth Century Collections Online. Volume One is available by the link below. Volume Two is also available on the same site
http://quod.lib.umich.edu/e/ecco/004910016.0001.001?rgn=subject;view=toc;q1=Poor+--+Law+and+legislation+--+Great+Britain
Another access point to the journal is through the link below:
http://writersinspire.org/content/pigs-meat-or-lessons-swinish-multitude-published-weekly-penny-numbers-collected-poor-mans
New prints of old books:

A number of Spence's pamphlets have been scanned in Gale Eighteenth Century Collections Online. These include his The Coin Collector's Companion; The Case of Thomas Spence [1792 trial], A s'upl'im'int too thi Histire ov Robinsin Kruzo [written in Spence's phonetic script; and scanned so badly as to be unreadable] and The Reign of Felicity, being a plan for civilizing the Indians of North America. The latter is an important work in which Spence imagines Native Americans being oppressed by both landlords and religion. Though the scanned version isn't very clear it can be read and is worth looking at. It is available by clicking here.
An interesting Spencean book, Allen Davenport's (1836) The Life, Writings and Principles of Thomas Spence, author of the Spencean System, or Agrarian Equality has now been digitised by Google and I have uploaded it for you HERE. Davenport, a follower of Spence, says of his book: 'We have seen many physical revolutions, and some moral or legal reforms; yet none of these changes have put a single extra loaf of bread into the cubboard of the poor. But in the reform that is here proposed, all the advantages will be, as they ought, on the side of the working man ... Every thing that is necessary to prepare the public mind for this great CUPBOARD REVOLUTION, or agrarian reform, contained in this truly philanthropic system, will be found in the following pages'
Other new-ish works

THE HIVE OF LIBERTY: THE LIFE & WORK OF THOMAS SPENCE (1750-1814)
Edited by Keith Armstrong, with an Introduction by Professor Joan Beal and a new essay by Professor Malcolm Chase
PRICE £5 ISBN 1 871536 15 4 ORDERS (ADD £2 POSTAGE PER COPY) TO: THE THOMAS SPENCE TRUST, 93 WOODBURN SQUARE, WHITLEY LODGE, WHITLEY BAY, TYNE & WEAR NE26 3JD, ENGLAND. TEL 0191 2529531.
A new paperback edition Malcolm Chase's important study of Spence's ideas and impact, The People's Farm: English Radical Agrarianism 1775-1840 was published recently (Breviary Stuff Publications, London)
Ian Robson's interview with Alastair Bonnett on Thomas Spence appeared in The Journal July 13th 2010, titled 'Shedding light on life of unsung local hero'. It can be found at: http://www.journallive.co.uk/lifestyle-news/newcastle-features/2010/07/13/shedding-light-on-life-of-unsung-hero-thomas-spence-61634-26838256/
'Paine, Spence, Chartism and 'the Real Rights of Man', by Malcolm Chase [The 2008 Eric Paine Memorial Lecture], The Journal of Radical History of the Thomas Paine Society, 2008, volume 9, issue 3, pp. 1-14
'The Other Rights of Man: The Revolutionary Plan of Thomas Spence' by Alastair Bonnett, History Today, September 2007, pp.42-48 TO READ THIS ARTICLE CLICK HERE History Today
'Nostalgia in and against English Socialism, 1775-1894' by Alastair Bonnett, Chapter Two of Left in the Past: Radicalism and the Politics of Nostalgia (Continuum, New York). This chapter looks at the treament of Spence by later radicals. To read a pdf draft of this chapter CLICK HERE Nostalgia in and against English Socialism, 1775–1894
Links
Keith Armstrong's website, with new photos of site of Spence's shop at Little Turnstile, London
http://keithyboyarmstrong.blogspot.co.uk/2013/11/thomas-spence-1750-1814_27.html
The best links for Spence are on the Spartacus Schoolnet
http://www.spartacus.schoolnet.co.uk/PRspence.htm
The Spartacus Educational essay on the Cato Street conspiracy can also be found here
Three Spence texts not included on this site can be found at:
http://www.ditext.com/spence/dickinson.html
The texts are:
The Constitution of a Perfect Commonwealth
The Restorer of Society to its Natural State
The Important Trial of Thomas Spence
See also:
http://en.wikipedia.org/wiki/Thomas_Spence
http://online.unn.ac.uk/faculties/art/humanities/cns/m-spence2.html
http://www.historyhome.co.uk/c-eight/people/spence.htm
Links on The Society of Speancean Philanthropists:
http://www.spartacus.schoolnet.co.uk/PRspencean.htm
http://randomsounds.tripod.com/id3.html
Link to the Thomas Paine Society:
http://www.thomaspainesocietyuk.org.uk/index.htm
Full edition of Paine's The Rights of Man :
http://www.ushistory.org/Paine/rights/singlehtml.htm
North East History Links:
http://www.northeastlabourhistory.pwp.blueyonder.co.uk/
http://157.228.32.93/web/projects/nebibliog/ahome/
Memories of Tyneside project:
http://tynesidememories.mfbiz.com/

---------------
Thomas Spence.co.uk has been founded to help ensure that the name and ambitions of Thomas Spence live on. We do not exist to venerate Thomas Spence. We welcome debate and contributions from readers on Spence's legacy and why it matters today.
Please note: Unfortunately there is no 'Thomas Spence Society' to join. It's just the domain name for the website, one which we are stuck with.
Our e-mail address
contact@thomas-spence-society.co.uk
Our banner line 'Hear me! ye oppressors!' is taken from the dialogue beween 'Woman' and 'Aristocracy' in Spence's 'The Rights of Infants' (1796). The full text can be found elsewhere on this site: see 'The Rights of Infants'.
This site has been constructed and written by Alastair Bonnett and Louis Holland Bonnett
Last modified: Oct. 2015
----------------------------

Spence token
'T. Spence. 7 MONTHS IN IMPRISONMENT FOR HIGH TREASON. 1794